OMNICHANNEL CONTACT CENTER
Our Media Bar and Integration Server makes the unified agent desktop a reality
Unify Your Experience, Communications & Agent Desktop
OpenMethods' Harmony OMNI enables the omnichannel contact center through the industry-leading SaaS platform that deeply integrates Oracle CRM with traditional communication platforms, such as Genesys, Cisco, Avaya, Five9, Interactive Intelligence, and others to unify your experience, communications and agent desktop.
The Unified Agent Desktop – Making The CRM The System Of Engagement
OpenMethods' Harmony OMNI Media Bar & Integration Server makes the unified agent desktop a reality by enabling, within the Oracle Service Cloud experience, all of the advanced telephony, interaction and queuing applications of traditional communications platforms.
With no more agent re-keying of data, or switching screens, our clients typically save over 30+ seconds in AHT, while improving their omnichannel customer experience.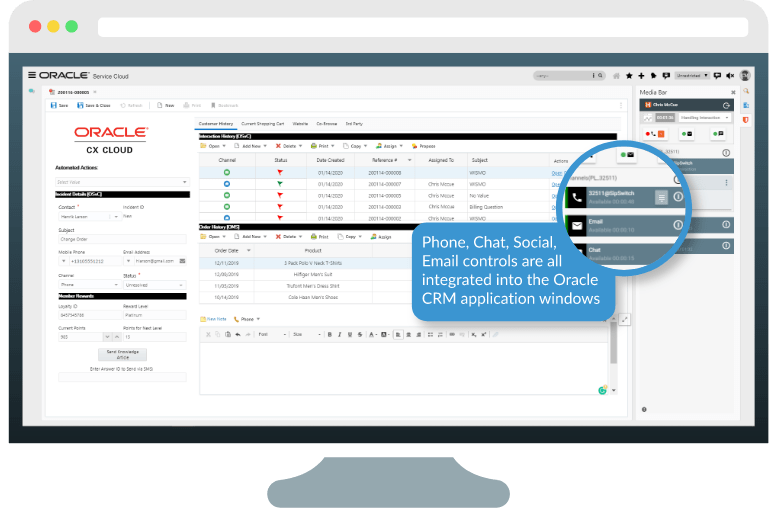 Unified Communications – The Universal Composite Queue
OpenMethods' Harmony OMNI Queue Adapters & Integration Service blends digital interactions such as email and chat into all of the leading ACDs to create a universal composite queue, giving contact centers the ability to unify their communications and leverage their existing investment in intelligent routing, workforce management and reporting.
Universal Composite Queue
Get The Most Out Of Your Legacy Investments
The time and monetary savings for our clients have been substantial, given they are able to leverage their legacy investments in workforce management and routing, avoid a rip and replace solution, while also getting instant visibility to all of their interactions with their customers. Because we've already built adapters for all of the top ACD platforms, such as Cisco, Avaya, Genesys, Five9, Interactive Intelligence, and others, the cost and time to implement is minimal, yet the return is substantial.
Rich plug & play integrations with the leading telephony platforms:
Unify Your Customer Experience
Omnichannel is about knowing who your customer is and the context of their interaction across channels. With OpenMethods' OMNI and CX RPA Platform, contact centers ensure their customers get a consistent, personalized and repeat-free experience across all channels.